Aristotle metadata user guides
The Aristotle Metadata User Guides are available for download in PDF versions from the
aristotle.cloud
Metadata Registry. The aristotle.cloud Metadata Registry is an open Aristotle Metadata Registry available for any user to sign up to. The User Guides are available to view and download from our
Aristotle Metadata User Guides Stewardship Organisation
.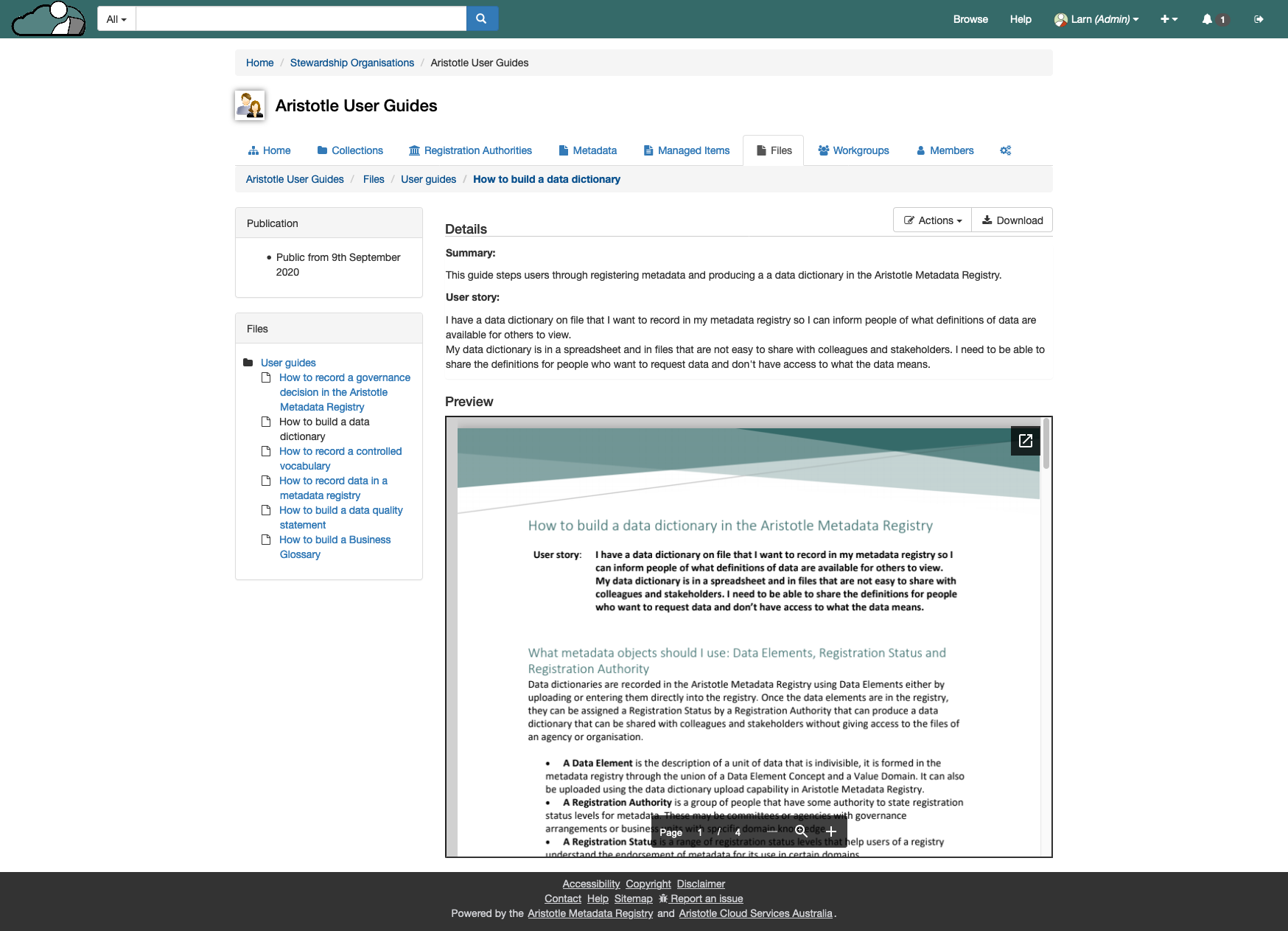 Related Articles

How to create and link quality statements

How to Create and Link Quality Statements A Quality Statement is a summary of the key issues to be aware of when using the data. It has seven categories to be taken into consideration, Institutional Environment, Relevance, Timeliness, Accuracy, ...

How to create and link glossary items

How to Create and Link Glossary Items A Glossary Item is a commonly used business term that may not be well understood outside of the Organisation. It's useful to record Glossary Items so that when an uncommon term or piece of jargon is used in a ...

How to record data lineage

How to Record Data Lineage In a Dataset 1. Go to the "Create Metadata" page and select to create a Data Set. 2. Give the Dataset a name and optional definition, and select the button. 3. In this step you will have to give the dataset a definition ...

Managing user accounts

How to Manage User Accounts You must be an administrator of the Registry to be able to perform these actions How to access user accounts As an Administrator of the Registry you have the ability to manage user accounts. To access user accounts: 1. ...

Content policies - how to control the editing and deletion of content

Content Policies - How to Control the Editing and Deletion of Content What are content policies? Content policies are a feature that allows registry administrators to better control users' actions around the editing and deletion of content. It ...
Aristotle Metadata Community
The Aristotle Metadata Community is a place where professionals
dealing with data and metadata management
from government, academia and the private sector can share their metadata knowledge.
Check out the Aristotle Metadata Community today!