Aristotle metadata community
The Aristotle Metadata Community is a forum that all users of the Aristotle Metadata Registry or interested parties can join and be a part of the growing community of people interested in all things metadata. The main purpose of the forum is so that anyone can ask a question or submit a query and either a user of the Aristotle Metadata Registry or an employee will respond directly, giving a more open and direct way to communicate and share metadata knowledge.

The Aristotle Metadata Community forum is available at
community.aristotlemetadata.com
, and you can browse through the many topics already available or you can sign up to reply to a topic or create a new one.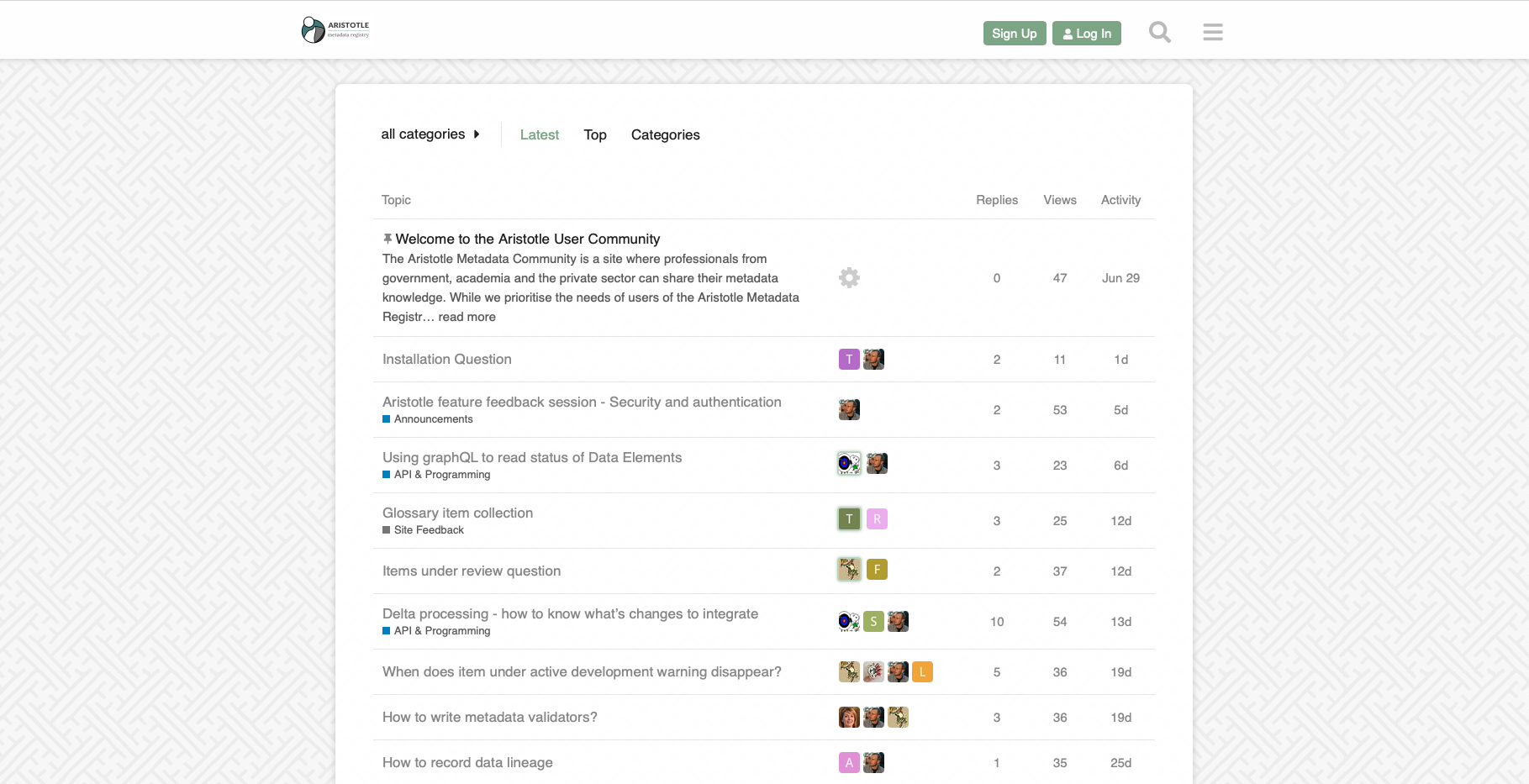 Related Articles

Aristotle Metadata Training - Aristotle Overview

This video steps users through basic functionality and how to use the Aristotle Metadata Registry.

Aristotle metadata user guides

What are the Aristotle Metadata User Guides? The Aristotle Metadata User Guides are carefully curated helpful guides created by our expert metadata analyst team. These users guides run you through step-by-step on topics like, how to record data in a ...

Creating metadata items

How to Create Metadata Items To get to the creation wizards, go to "create metadata" on your dashboard side panel, or the creation tool in the header bar and select "see all…" Data element and data element concept wizards Wizards help make metadata ...

How to delete metadata items

How to Delete Metadata Items From the Sandbox All Users can delete items in their Sandbox at any time 1. Go to My Sandbox from your Dashboard side panel 2. Select the button next to the metadata item you want to delete Metadata that is Registered ...

Content policies - how to control the editing and deletion of content

Content Policies - How to Control the Editing and Deletion of Content What are content policies? Content policies are a feature that allows registry administrators to better control users' actions around the editing and deletion of content. It ...
Aristotle Metadata Community
The Aristotle Metadata Community is a place where professionals
dealing with data and metadata management
from government, academia and the private sector can share their metadata knowledge.
Check out the Aristotle Metadata Community today!